McGill's Young Professionals Gather for Food, Fun, and Basketball
In late February, McGill's young professionals group hosted another successful event at Raleigh's PNC Arena. With over 60 employees and their families in attendance, the group saw North Carolina State University play Clemson University in a much-anticipated basketball game. The game proved to be intense with several employees being alumni from both universities. The lively game ended with the Tigers winning over the Wolfpack at 96 – 71.
A Friendly McGill Rivalry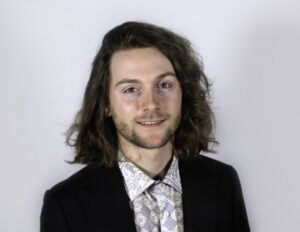 McGill Project Manager Noah Green said of the event, "McGill has 33 staff who are NC State alumni and 9 staff who are Clemson alumni. This rivalry has always led to friendly competition between colleagues in the offices."
After the game, the group headed back to McGill's Raleigh office just a short walk away. With tasty refreshments in hand, people from all offices were able to visit with each other and enjoy each other's company. The event was rounded out by a presentation from McGill's Director of Water Resources, Dori Sabeh, PE, GISP.
"With much of our work spanning offices, we often work with our colleagues without meeting them in person. The young professionals event provided a fun opportunity to make new connections across offices," explained Noah, who helped plan the event.
Dori Sabeh, PE, GISP, gave a presentation to the group about McGill's water resources team and how it connects to our other practice areas. Dori highlighted important McGill projects like Jessup's Mill Pond Dam, Rhodes Pond Dam, Boiling Spring Lakes Dams, and Gumbo Branch Stream Restoration. Due to McGill's innovative solutions to challenging issues, we are able to shape communities together and solve problems in an impactful way.
About McGill's Young Professionals Group
Because we are a relationship-driven company, we understand how important it is to provide our employees and those new to their careers with chances to connect with one another outside of the normal course of their work. These interactions give them a confidence boost and help them feel like they are important and respected members of the team. McGill is happy to provide periodic group outings across all offices to promote interpersonal growth.
Learn More
To learn more about how McGill values our culture and provides unique opportunities for our employees, click here.
Keep Reading