McGill Attends Martin Marietta Park Ribbon-Cutting Ceremony
New Bern's Largest Park is Open to the Public — Just in Time for Spring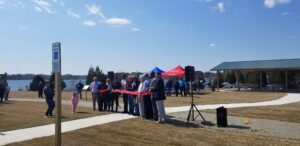 McGill attended a ribbon-cutting ceremony at the end of last month to commemorate the opening of Martin Marietta Park to the public. Martin Marietta Park is now the largest park in the City of New Bern, with approximately 888 acres of land and lakes. The park offers a variety of recreational opportunities and also serves as a venue that is capable of hosting events and live performances.
MCGILL'S INVOLVEMENT WITH MARTIN MARIETTA PARK
McGill was engaged by the City of New Bern to produce a Master Plan for Martin Marietta Park, which came as a result of a land donation from the Martin Marietta Corporation. To identify preferred activities and needed amenities, McGill's land planning and recreation team collaborated with City of New Bern Parks and Recreation staff as well as members of the general public.
MCGILL VALUES PUBLIC ENGAGEMENT IN MASTER PLANNING
McGill Planner Jim Ford said, "Based on the public input we collected, our team then created conceptual design alternatives. Ultimately, we created a final design for the Martin Marietta Park that reflected the needs and desires of the community."
"My favorite aspect of this project was the public engagement and concept design process. Interpreting stakeholder desires and translating that information into a graphic layout for the site was satisfying," explained Jim.
MARTIN MARIETTA PARK'S MAIN ATTRACTIONS
With the lakes serving as the primary attraction, McGill planned for a multitude of water-based features, including canoe and kayak launches, sailboat rentals, fishing, and bird-watching lodgings.
With an outdoor adventure theme in mind, our experts also designed standard park amenities, such as parking, bathrooms, concessions, an adventure playground, and picnic shelters. The amphitheater is set up to host over 5,000 people, with potential for expansion.
A ropes course, skate park, zip lines, lookout and observation tower, and a large network of walking and bicycling trails are among the other park facilities. Additionally, our team created tent and treehouse camping zones, animal viewing platforms, and shelters for the property's outlying sections.
"The opening of this park provides stakeholders improved access to recreational amenities, natural areas, and water-based activities," noted Jim. "This is a large park that will serve both local users and visitors as a desirable destination."
MCGILL IS SKILLED IN NAVIGATING ENVIRONMENTAL REQUIREMENTS
At McGill, we place a high value on environmental stewardship. Alongside meeting the demands and objectives of our clients, we strive to prioritize sustainability and the preservation of the natural environment in the communities where we live and work.
"The most challenging aspect of this project was navigating the environmental requirements and limitations of the site. Identification of and planning for the protection of sensitive habitat and wetlands requires a lot of research and patience," said Jim. "Fortunately, McGill has in-house experts that helped our team refine our final design for Martin Marietta Park."
LEARN MORE
Click here to read more about how McGill's land planning and recreation teams' ability to create spaces that seamlessly tie together built and natural environments.
To read about additional parks that McGill has helped bring to fruition — check out the articles and case study below:
Articles
Ocean Isle Beach Town Center Park Opens 
Stinger Park Creates Resonating Buzz in Bessemer City
Case Study
Park Design and Construction Administration