Lights, Camera, Action!
We Celebrate National Marketing Operations Appreciation Day with the 2023 SMPS SERC Conference
Have you thought much about marketing in the architecture, engineering, and construction (AEC) industry? With the help of marketing professionals, an AEC project is awarded and presented in a way that takes the most basic tasks or straightforward proposal and makes it interesting, innovative, and exciting! We are happy to celebrate National Marketing Operations Appreciation Day on April 11th and say a little "thank you" to the McGill staff that promote our brand internally and externally and assist our engineers and planners with winning work, presenting projects, and shaping communities together.
In order to keep up with AEC industry trends, marketing staff take part in continuing education and professional development opportunities through conferences like this year's Society for Marketing Professional Services (SMPS) Southeast Regional Conference (SERC). McGill Marketing Coordinator Rebekah Faile attended the conference and brought back valuable information to keep McGill in the loop with emerging trends and new techniques.
About SMPS
Since 1973, SMPS has developed into a diverse community of marketing and business development professionals working together to move the AEC industries forward. SMPS represents a dynamic network of almost 7,000 marketing and business development professionals from architectural, engineering, planning, interior design, construction, and specialty consulting firms located throughout the United States and Canada. The group continues to recognize the need to sharpen skills, pool resources, and work together to grow and build businesses. As the business world and built environment continue to evolve, SMPS and its members are steadfast in staying ahead of the curve.
SERC Hot Topics
This year's conference had a cinema theme with many presentations and breakout sessions framed as a film trope or specific movie. Keynote speakers motivated conference-goers on a variety of topics, including one led by Holly Bolton, PSMPS, CPSM, who spoke on "The Power of Having a Quest: Connecting the Plot Point in Your Life's Story."
Breakout sessions provided an opportunity to dig deeper with speakers on topics, such as:
Powerful presentations and stage presence
Merging marketing and business development
Navigating relationships between technical and marketing staff
Data stewardship
Email marketing
Disruptive marketing
Navigating marketing through a recession
McGill Supports Professional Growth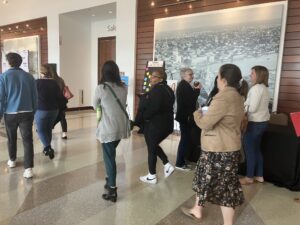 McGill believes strongly in the value of professional growth and seeks to continually understand the nuances of the industry. We are passionate about learning individually and as a whole. As a first-time attendee of the annual conference, Rebekah shared, "It was great to see so many marketing professionals in our industry be so passionate about new things they are doing at their firm. It was also reaffirming to hear about common struggles across the AEC industry. I'm excited to bring back new information and help push along ideas we've had in the works."
Learn More
For more information on SMPS, visit: https://www.smps.org/.