McGill Reflects on a Successful 2022
With 2023 upon us, McGill is taking the time to look back on the many favorable outcomes and positive changes that 2022 brought us and our clients. Although we have our sights set on a prosperous future, the start of a new year provides the opportunity to pause and give thought to the past 12 months.
Reflection is a vital part of the growth process because it allows us to capitalize on our strengths and approach the new year with a solid foundation and a desire to exceed previous goals.
JANUARY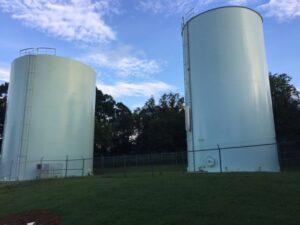 We started 2022 strong by being selected as the engineering firm for the Alexander County water line extension project. McGill was chosen for this project based on our extensive experience in preliminary design, design and permitting, easement map development, bidding, and general administration of construction contracts.
McGill was particularly honored to be part of enhancing the quality of life for Alexander County residents by ensuring that everyone has access to clean, safe, and reliable drinking water.
FEBRUARY
In February, McGill celebrated Engineers Week by providing lunch for staff at all of our office locations. This year's Engineers Week theme was Reimagining the Possible. Here at McGill, if our clients can imagine it, we are prepared to turn it into a reality, and feel that we have proven just that over the last 12 months.
Our dedicated engineers place a high value on problem solving and are capable of overcoming challenges in order to create innovative and personalized solutions that yield favorable project outcomes.
MARCH
In March, McGill's Knoxville team put a great deal of emphasis on helping communities invest in local infrastructure. Tennessee Governor Bill Lee and the Tennessee Department of Economic and Community Development Commissioner Bob Rolfe approved $28.5 million in Community Development Block Grants (CDBG). McGill's Knoxville team contributed to these efforts by providing the Preliminary Engineering Report (PER) for three of the grant recipients — Englewood, Jefferson City, and Ducktown, Tennessee.
McGill Knoxville Office Manager Jamie Carden said, "Most of the time, the front end of the work to help these communities get the grants, is talking to the mayors, council, and utility leaders and seeing what their needs are. Once we establish those, the next step is coming back and putting together a PER for those projects. Then, we go on to help the communities with the CDBG application process."
APRIL
April is Landscape Architecture Month, and here at McGill, we are extremely proud to have a skilled and innovative land planning and recreation team. All month long we celebrated the fact that they are dedicated to developing spaces that harmoniously combine built and natural environments, and they also work hard to ensure that communities are given opportunities to thrive and every individual within that community feels welcome to enjoy the results of their efforts.
MAY
In May, members of McGill's water resources team attended the 32nd Annual North Carolina Association of Floodplain Managers (NCAFPM) Spring conference in Atlantic Beach. McGill was a gold sponsor for this informative event which included workshops, presentations, and networking with other floodplain managers.
Lamyaa Negm, an engineering associate at McGill noted, "It was such an interactive and engaging conference where we had a great opportunity to stay informed on a variety of interdisciplinarity topics delivered by FEMA, regional and state agencies, and many other engineering partners aiming to increase flood resiliency and considering very dynamic climate and socioeconomic variations."
JUNE
On June 15th, McGill attended a groundbreaking ceremony to officially kick off the construction of the new Concord Downtown Streetscape project. Andy Lovingood, McGill President, provided remarks, and a number of McGill personnel who were involved in the project were in attendance.
McGill Project Manager Carrie Cranwill said, "The importance of McGill's attendance at groundbreakings and ribbon cuttings, such as this one, is to show our support for the community, and to celebrate the milestone of the project starting with the City staff that worked so hard on the project during the design process."
JULY
In July, members of the McGill team attended a ribbon-cutting ceremony in Valdese to celebrate the completed construction of the McGalliard Creek Bridge. McGill supported the Town with this project by reviewing bids, completing floodway modeling and permitting, and observing construction progress.
The construction of the Valdese bridge was an excellent illustration of a community coming together to accomplish a goal through the combined efforts of its residents, Town employees, elected officials, state authorities, contractor, and consultants.
McGill's RJ Mozeley noted, "It's projects like these that resonate so well with our tagline of shaping communities together."
AUGUST
As students headed back to school this past August, McGill was gearing up for career fair season. McGill participates in career fairs on a consistent basis and looks forward to having conversations with college students about potential internships and full-time job openings. As a firm, we recognize the unquestionable value that recent graduates bring to the table, whether it be in their capacity to provide novel ideas and fresh outlooks or in their technical knowledge of the most cutting-edge best practices.
McGill Recruiting and Engagement Coordinator Kailey Bevins said, "It's important to have visibility on campuses that we recruit from so students know of ongoing opportunities with McGill, whether that be for internships or full-time positions."
SEPTEMBER
In September, McGill was a sponsor and exhibitor at the WaterJAM 2022 conference that took place in Virginia Beach. This conference was the joint annual meeting of the Virginia Water Environment Association (VWEA) and the Virginia Section of the American Waterworks Association (VAAWWA).
The theme of this year's WaterJAM conference was Our Water, Our Future. Here at McGill, we understand that responsible water and wastewater management is vital for growth and an optimistic future in every community. Whether we are striving to supply our clients with clean drinking water or to treat their wastewater in the correct manner, we are dedicated to doing so in ways that are forward-thinking, efficient, and cost-effective.
OCTOBER
This past October, on the 50th anniversary of the Clean Water Act, American Rivers, a conservation group, selected the Neuse River as the 2022 River of the Year. On October 17th, this award was announced at an event held in Goldsboro. The speakers included the Environmental Protection Agency (EPA) Administrator Michael Regan, the Secretary of the Department of Environmental Quality Elizabeth Biser, as well as several state and federal legislative representatives.
McGill Principal and Director of Regulatory Relations Forrest Westall serves as the UNRBA Executive Director and has held that position since 2012. "This work and the accomplishments of the UNRBA reflects the leadership role that McGill is providing the association through my role as executive director. This work highlights the broad level of services and support that McGill provides," explained Forrest. "We have been working on a complete scientific evaluation of Falls Lake and its watershed over the last 11 years. Our recommendations for an updated management program for nutrients from the watershed are due the end of 2023."
NOVEMBER
In November, McGill attended the Tennessee Recreation and Parks Association (TRPA) Conference in Gatlinburg, Tennessee.
During this year's conference, exhibitors and conference attendees from the parks and recreation industry were able to communicate, share knowledge, and compare the outcomes of recent efforts. A variety of on-site and off-site educational sessions were available to conference attendees in an effort to create discord over the latest developments in the sector and reignite the passion for the significance of parks and recreation initiatives.
McGill Business Services Manager Greg Kelly said, "Attending these type of conferences gives us the ability to interact and catch up with some of our existing clients in a very informal and more personal setting than what takes place during regular business interactions. This conference allowed us to expose and hopefully sell our reputable services to potential new clients by showing them examples of the services we have already provided."
DECEMBER
The Town of Canton was awarded funding for two flood mitigation program projects from the Golden LEAF Foundation on December 1st. The Golden LEAF Board of Directors awarded $250,000 to replace and improve stormwater infrastructure on Rhoda Street and $160,400 to replace and improve stormwater infrastructure on Skyline Drive — both damaged as a result of Tropical Storm Fred. McGill's water resources team is completing the work on these two projects.
McGill Principal and Vice President Michael Hanson said, "Stormwater flows associated with Tropical Storm Fred caused massive damage, erosion, and washout of Rhoda Street and the culvert associated with the Pigeon River Tributary passing under the roadway. Similar damages also occurred at Skyline Drive due to joint failure of the culvert and floodwaters washing over the roadway. The Rhoda Street project will replace the undersized corrugated metal culvert with a larger capacity concrete box culvert and stabilize the eroded channel banks. The Skyline Drive project will similarly replace the undersized 36-inch corrugated metal culvert with a 48-inch reinforced concrete pipe."
Michael further explained that the proposed improvements will make both culverts more resilient to withstand future flooding as well as improve the level of service for the roadway to avoid overtopping up to the 10-year 24-hour storm event.
OUR CLIENTS WERE THE BEST PART OF OUR YEAR
While McGill was involved in a wide variety of projects and initiatives throughout the course of the past year, one thing has remained constant — our commitment to shaping communities and serving our clients well.
Our firm was founded on establishing meaningful relationships with local communities, and we count it a great honor to nurture these relationships as we move into 2023.
LEARN MORE
Click here to read more about what McGill was up to in 2022. Click here to learn more about what we do and how we can potentially serve you and your community in the years to come.
Recent articles: