Uplifting Communities Through Downtown Revitalizations
From street furniture, native landscaping, and decorative paving, to sewer replacements and underground utilities, McGill provides a complete package of downtown streetscape revitalization services. Our land planning and recreation team is passionate about working with communities and their stakeholders to develop a design, budget, and schedule to bring each one of their visions to life.
Improving a downtown has multiple benefits, such as increasing economic activity by creating better access to businesses; increasing safety through improved sidewalks, crosswalks, parking, and traffic patterns; and building upon a community's identity and character. McGill has completed 22 streetscapes across North Carolina (see graphic below). Several of these projects have received NC Main Street awards. These projects include:
Centennial Park, City of Bessemer City (pictured above)
Award of Merit – Best Outdoor Space Improvement
Downtown Master Plan and Streetscape, City of Sanford
Best Public Private Partnership — Chatham Street Parking Lot
Downtown Streetscape, City of Lenoir
Special Recognition – Best Outdoor Space Improvement (Veterans Memorial)
Special Recognition – Best Outdoor Space Improvement (Lenoir Downtown Streetscape)
Downtown Master Plan and Streetscape, Town of West Jefferson
Best Streetscape Design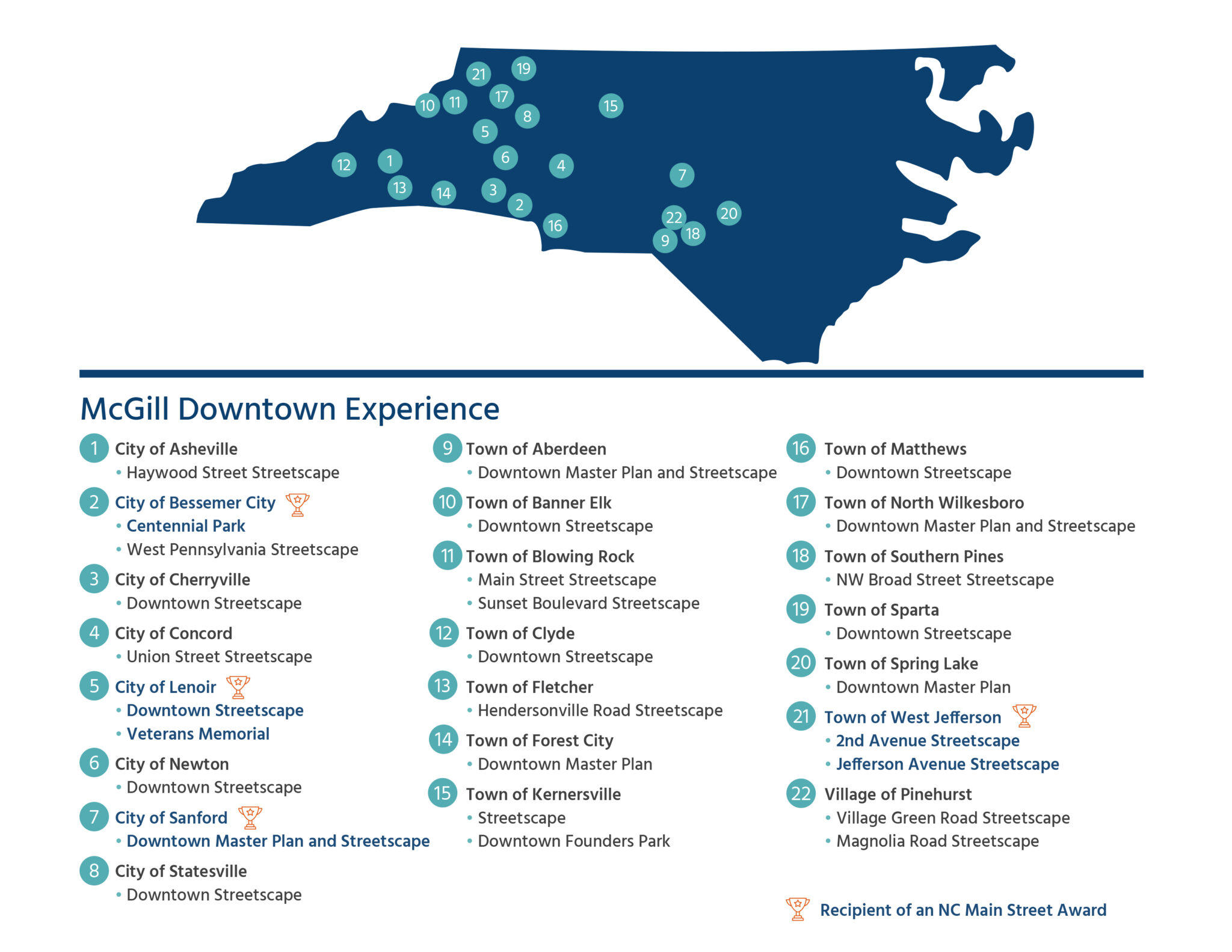 To learn more about our services and how we can help get your next downtown project moving forward, reach out to Mike Norris, Director of Land Planning and Recreation, or read about how the McGill team worked together to improve the City of Asheville's Haywood Streetscape in our recent case study.