McGill Anticipates a Successful Career Fair Season
MCGILL VALUES COLLEGE STUDENTS AND RECENT GRADUATES
McGill regularly attends career fairs and looks forward to discussing opportunities for internships and future employment with college students. As a firm, we see the undeniable value upcoming graduates hold — from their ability to bring forth fresh ideas and perspectives, to their technical training in the most up-to-date best practices.
McGill Director of Human Resources Angie Alley said, "Our team talks to the students about their interests and helps them connect the dots. We review locations, talk about the teams in each location to match the student's skill set, and we encourage students to gain some exposure to software that is used in the industry. We take the time to get to know the student and take their resume on the spot and send it to our hiring manager immediately following the career fair." 
WHY MCGILL IS A GREAT PLACE TO WORK
McGill's diverse group of talented employees is the foundation of our success. Their unique skills, innovative approaches to problem solving, effective communication styles, and desire to better the communities they live and work in, are what sets them apart and propels our firm forward.
We are an industry leader in providing a wide range of engineering services, including water and wastewater, solid waste, land planning and recreation, electrical, civil, survey, construction, environmental, and consulting. McGill is also known for our longstanding relationships with our strong existing client base.
Our work environment values and prioritizes teamwork, personal development, career growth, and integrity, and we offer competitive compensation and benefits.
WE ARE LOOKING TO ADD TO OUR TEAM
As McGill continues to prosper, we are eager to bring on bright individuals who can help us
on our mission to shape communities and transform the lives of millions throughout the Southeast, by way of our meaningful and highly effective work in engineering.
ENGINEERING INTERNSHIP OPPORTUNITIES
We offer paid internships for students seeking a degree in civil, environmental, water resources, electrical engineering, and related fields. The objective of an internship is to integrate the knowledge and theories learned in the classroom  with practical application and skill development in a professional and supportive setting.
ENGINEERING JOB OPPORTUNITIES
McGill has eight desirable office locations throughout the Southeast: Asheville, Hickory, Raleigh, Pinehurst, Shallotte, and Smithfield, North Carolina; Knoxville, Tennessee; and Williamsburg, Virginia. "We are looking for students who have an interest in what we do. If the student has a passion for the services McGill offers, their passion will drive their career whether it be technical / design focused, project management, or a leadership role in the future," said Angie.
UPCOMNG CAREER FAIRS
See below for a list of upcoming in-person and virtual career fairs that McGill will be attending:
February 11th – Virginia Tech University – Slush Rush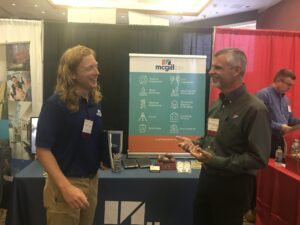 We are looking forward to meeting and having productive conversations with those who attend. "Our main objective is to connect with students, so they are aware of McGill and the services we offer in the hopes they will see us as a future employer. Although we have profiles on several student platforms, it is always good for the students to make a personal contact to get to know more about the company," Angie explained.
LEARN MORE
Click here to learn more about McGill's current job opportunities. Click here to read tips and listen to a podcast on landing your first engineering job. If you are interested in becoming a part of the McGill family, email your resume to recruiting@mcgillassociates.com.