National Surveyors Week 2020
15 Years of Surveying Success
McGill is proud of our capable and enthusiastic surveying team who continuously provides high-quality services to our clients. Since 2005, our surveying team has used advanced instrumentation and software technologies to supply accurate data for a variety of projects, including public infrastructure and mapping, route surveys for utility design, as-built surveys, construction stakeout, right-of-way retracement, FEMA flood elevation certificates, FEMA flood study cross sections, ALTA surveys, GIS mapping, topographic site mapping, and geodetic control surveys for photogrammetry, as well as site survey control.
In celebration of National Surveyors Week, we share a recent project completed by the team and some words from our talented staff.
Haywood Street Streetscape Project in Downtown Asheville
McGill's survey team recently worked with the City of Asheville to conduct complete site mapping of approximately 1,600 linear feet (LF) along Haywood Street, extending from the Basilica of Saint Lawrence south to Patton Avenue, and extending to the face of buildings on both sides of Haywood Street. Haywood Street is a hub for activities and city happenings, this project improves to the area for all downtown businesses and visitors. The mapping is part of a complete streetscape renovation that is in partnership with McGill's land planning and recreation team.
Our surveyors performed the mapping with conventional surveying, as well as both aerial and terrestrial photography and photogrammetry. Within the project area, McGill also provided geodetic survey control and targeting on the NAD83 (2011) and NAVD88 (Geoid12B) datums, high-resolution photogrammetric scans in point cloud format, right-of-way and property boundaries, topographic mapping at a one-foot contour interval, planimetric delineation of all above-ground features, mapping of all above-ground utilities and subsurface utilities as marked by utility providers, all underground piping networks (including invert depths), pipe materials and sizes, all pavement striping, all plant material and existing trees, and all paving and finish materials.
Mapmaking to Create Historical Data
"My interest in mapmaking led me to surveying. The variety of work we do ensures there is never a dull moment. Maps can be some of the best historical records, and I find it fascinating to research an area's history, apply it to what we find on the ground, and interpret all the evidence into new maps for future surveyors, landowners, engineers, and communities." – Lisa Simmons, LSIT, Survey Associate II
Advancing Technologies and Working in Amazing Locations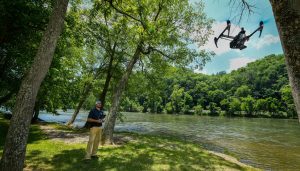 "What excites me most about surveying right now is our utilization of rapidly advancing technologies to execute an age-old science. McGill's investment in remote sensing over the last several years has positioned our surveying and mapping division to be a leader in the advancement of the profession. Piloting a remote-controlled aircraft in an amazing location as part of my 'job' is certainly a plus too." – Jason Gasperson, PLS, Project Surveyor | UAS Pilot
McGill is proud of our surveying team's continued commitment to provide first-rate services to our clients and the profession itself, in addition to the rapidly evolving technology and consistent challenges our team members face. Read what Dallas Gordon, Surveying Services Manager, has to say about the surveying field and the team he leads at McGill.